Descriptions: ORGINAL TDA7297 Audio Amplifier IC Through Hole
ORGINAL TDA7297 IC TDA 7297 TDA7297S IC 6V 12V 18V 2A 15W 15W Dual Bridge Audio Amplifiers 2 Channel Stereo Audio ZIP 15Pin Leads Audio TDA7297 Amplifier IC
An audio power amplifier is an electronic amplifier that amplifies low-power electronic audio signal such as the signal from radio receiver or electric guitar pickup to a level that is high enough for driving loud speakers or headphones. Audio power amplifiers are found in all manner of sound systems including sound reinforcement, public address and home audio systems and musical instrument amplifiers like guitar amplifiers. It is the final electronic stage in a typical audio playback chain before the signal is sent to the loudspeakers.
The TDA7279 is a 15W + 15W Stereo dual bridge Amplifier. It is 15 Pin class AB type amplifiers and has an operating voltage from 6V to 18V. It is typically operated at 12V in portable battery powered audio applications like Radio, Bluetooth speakers etc..
Pin Configuration 
| | | |
| --- | --- | --- |
| Pin Number | Pin Name | Description |
| 1 | OUT1+ | Channel 1- Non-Inverting Output |
| 2 | OUT1- | Channel 1 – Inverting Output |
| 3,13 | Vcc | Supply Voltage (6V to 18V) |
| 4 | IN1 | Channel 1 Input |
| 5 | N.C | No Connection |
| 6 | Mute | Can be used to mute the output |
| 7 | Stand-By | Put IC on stand-by when not used to save battery charge |
| 8 | Pw-Gnd | Ground terminal of power supply |
| 9 | S-Ground | Ground terminal of audio (signal) |
| 10 | N.C | No Connection |
| 11 | N.C | No Connection |
| 12 | IN2 | Channel 2 Input |
| 14 | OUT2- | Channel 2 – Inverting Output |
| 15 | OUT2+ | Channel 1 – Non-Inverting Output |
Features 
Dual channel Class AB Amplifier
15W + 15W Stereo Output
Operating Voltage: 6V to 18V
Peak Output Current: 2A
In-built mute and stand-by function
Maximum Quiescent current: 65mA
Closed Loop Voltage gain: 33dB
Note: Complete Technical Details can be found at the TDA7279 datasheet given at the end of this page.
TDA7279 Equivalents 
TDA7266, TDA7265
Alternatives Audio Amplifiers 
TDA2030, TDA1554, TDA7294,
Where to use a TDA7297 amplifier?
The TDA7297 is a Class AB dual channel audio amplifier. It is available in compact 15-pin package and can operate with 6V to18V making it suitable for consumer electronics like TV, Radio, Home theater etc. Audio amplifier circuits can also be made using simple op-amps, but if you need higher volume that is loud enough for a room then this power audio amplifier is will be the best choice. This IC can deliver up to 30W (15+15) of output power, so you can run two 4Ω speakers at 15W each for stereo audio quality.
Another advantage of TDA7297 is it requires minimum external components to get it running. If you are looking for higher wattage amplifier then check out TDA7294 which can output 100W power.
How to use TDA7297?
The TDA7297 is a popular easy to use audio amplifier IC. The IC is a dual bridge amplifier, meaning it requires both left and right audio input to provide a stereo output. The output is also split into channel 1 and channel 2 each capable of driving 15W speakers. Each channel also has an inverting and non-inverting output for connecting the positive and negative terminal if the speaker. The typical application diagram is shown below.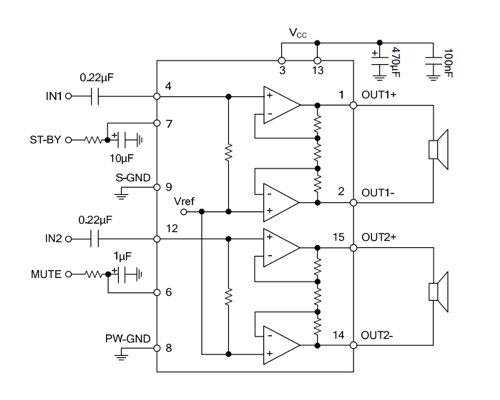 As you can see the IC requires only minimal number of components like few extra capacitor and resistor making it easy for designers to adapt it into compact portable applications like handheld radios or Bluetooth Speakers. Further the minimal requirement of components also reduces the BOM cost. The IC also comes in with a built-in mute function and stand-by function. The mute function eliminates the requirements of additional components while the stand-by can be used to conserver battery. Normally a microprocessor is used to control the mute and stand-by features based on the input from the user.
Applications 
Used for Audio signal Amplification
Suitable for medium power amplification
Capable of operating on dual/split power supply
Stereo audio application
Packaging Including:
1 x ORGINAL TDA7297 IC TDA 7297 TDA7297S IC 6V 12V 18V 2A 15W 15W Dual Bridge Audio Amplifiers 2 Channel Stereo Audio ZIP 15Pin Leads Audio TDA7297 Amplifier IC