Description: UC3843 Current-Mode PWM Controller
UC3843 IC 3843 UC3843B UC3843BN UC3843AN PWM Switching Power Converter 8 Pin Leads DIP-8 Dual In Line Package Chip IC
The output stage, suitable for driving N-Channel MOSFETs, is low in the off-state. Differences between members of this family are the under-voltage lockout thresholds and maximum duty cycle ranges. The UC3843 can operate to duty cycles approaching 100%.The UC3843 control IC provides the necessary features to implement off-line or DC to DC fixed frequency current mode control schemes with a minimal external parts count. Internally implemented circuits include under voltage lockout featuring start-up current less than 1mA, a precision reference trimmed for accuracy at the error amp input, logic to insure latched operation, a PWM comparator which also provides current limit control, and a totem pole output stage designed to source or sink high peak current.
Features:
Optimized for OFF-LINE and DC to DC converters
Low Start-Up Current (<1mA)
Automatic Feed Forward Compensation
Pulse-by-pulse current limiting
Enhanced load response characteristics
Under-voltage lockout with hysteresis
Double pulse suppression
High current totem pole output
Internally trimmed bandgap reference
UC3843 Specifications
Current-Mode PWM controller
Operating Voltage: 7.0V to 8.2V
Output pin current: 1A
Analog input range: -0.3 to 6.3V
Oscillation Frequency: 52 Typically
Gain: 3V
Maximum source current: 22mA
Low Output Voltage: 0.08V
High Output Voltage: 13.5V
Where to use the UC3843 PWM Controller IC
The UC3843 IC is a current Mode PWM Controller, meaning it can be used to provide a constant current by varying the output voltage to the load. While building Switch mode supplies with feedback there are two modes of control that is commonly used, one is voltage mode control where the output voltage will kept constant irrespective of the current (CV mode) and the other is current mode control where the output current will be constant (C mode) irrespective of the voltage.
The UC3843 can be used to regulate or limit current in application like SMPS, RPS, DC-DC Converters, Line voltage regulators, etc. So if you are looking for an IC to  produce PWM signals for controlling a power switch based on the current flowing through the circuit then this IC might be the right choice for you.
How o use UC3843 IC
Although the IC performs a sophisticated job, using it in a circuit is fairly simple and can be done with minimum number if external components which make this IC to be a preferable choice among designers. A sample application circuit of this IC is shown below.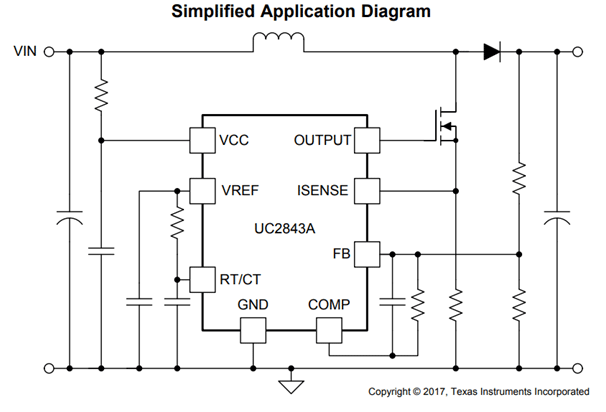 The IC has an under voltage protection, so care should be taken to make sure that it has an operating voltage between 7V to 8.2V. The output pin of the IC is connected to the gate driver circuit of the Power switch which is to be switched. The output pin can source upto 1A ad hence a current limiting resistor will be required. The VFB (Voltage feedback) pin acts as a feedback based on which the PWM signal is controlled. A shunt resistor is used to monitor the change in current in the circuit and then this difference voltage across the shunt is provided to the feedback pin.
The IC also has an internal oscillator which can be configured using by connecting the right value of capacitor and resistor to the pin Rt/Ct. The Datasheet recommends a value of between 470pf to 4.7nf and for the resistor a value between 5k to 100k. Refer the datasheet at the end of the page to know more about this IC. Also check out the Layout diagram at the bottom of the datasheet for a quick start. A more detailed application circuit is shown below.
Applications
SMPS (Switch mode Power Supplies) circuits
DC-DC converter circuits
Electronics power supply
Battery drain circuit
Load machines
Package Include:
1 x UC3843 Current-Mode PWM Controller