Description: PAM8403 5V Stereo Audio Amplifier Board
The PAM8403 5V Two-channel Stereo is a 3W+3W, class-D audio amplifier. Allowing it to achieve high-quality sound reproduction. The new filterless architecture allows the device to drive the speaker directly, requiring no low-pass output filters, thus saving system cost and PCB area. With the same numbers of external components, the efficiency of the PAM8403 is much better than that of Class-AB cousins. It can extend the battery life, which makes it well-suited for portable applications.
Features:
Dual channel stereo output 3 w + 3 w power Class D
Works with 2.5V-5v power supply
High amplification efficiency 85%
can directly drive 4 Ω/8 Ω small speakers
Good sound quality  & noise suppression
Unique without LC filter class D digital power board
Can use computer USB power supply directly
Small Size, 1.85 x 2.11 cm   can easily fit in a variety of products
Note when using:
Input audio should be via sheilded wire for best performance.
Use proper filtered power supply with good filter capacitors.
Take care not to short speaker wires else IC will get damaged.
Make sure power supply never execeds 5.5V else IC will get damaged. Use regulated power supply.
Board Schematic: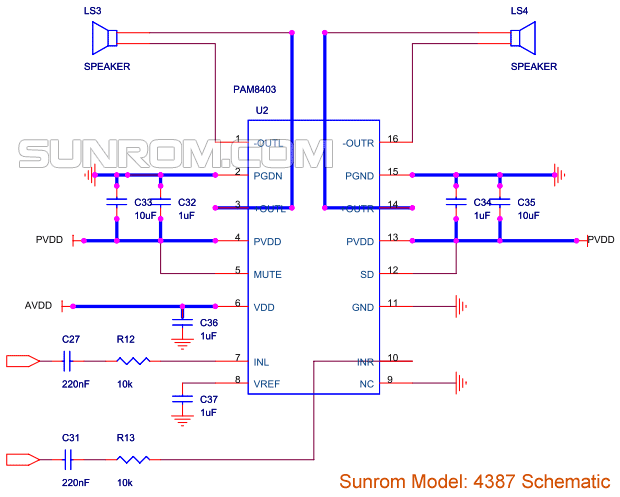 Application:
LCD TVs, monitors
Laptop
Portable Speakers
Portable DVD players, game consoles
Phone / speakerphone
Package included:
1 x 3W class D Mini Amplifier Board